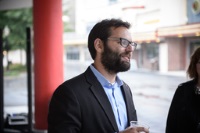 Mark Riley
- CEO and Principal Engineer -
In addition to being Eucleo's top software engineer and technical mind, Mark is responsible for Eucleo's day to day operations and leading the charge to define Eucleo's future direction and success. Mark also spearheads the development of Eucleo's technical strategy.
Mark co-founded Eucleo in late 2010 with long-time co-worker, office mate, and close friend: Adrian Porter. Their vision at the time was to provide a lean and highly talented development team that could support the Warfighter more rapidly and efficiently than the behemoths bloated by overhead. Starting with three employees, Eucleo has doubled in size.
Mark's technical ability is legend among anyone with whom he has worked. His clear minded and clean approach to software creation is world class and highly coveted. Mark has broad experience with over a dozen programming languages, and deep experience in almost as many. However, it is with Java and associated systems that Mark shines. Mark is a true Java expert and provides technical advice of the highest integrity.
---